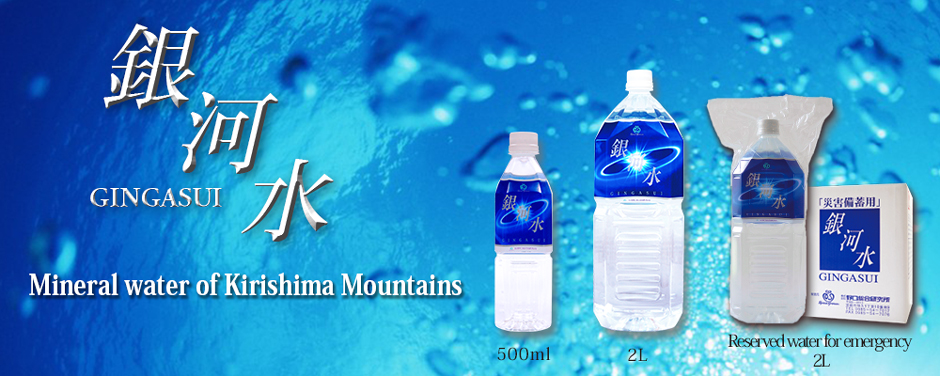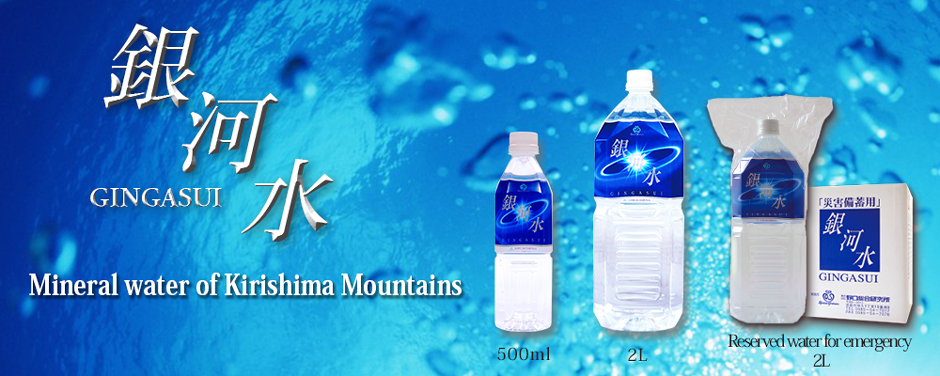 The raw water of "Gingasui" is pumped up at the foot of Kirishima Mountain in Miyazaki prefecture which has a volcanic zone of the heaviest rainfall in Japan. The region is a part of Kirishima Yaku National Park assigned as the first national park in Japan. It lies on the middle of the volcanic activity in Kyushu, where old and new volcanos repeatedly folded or heaped through several million years, and great nature surrounded by sediments of pyroclastic flows of tephra and volcanic rocks still remains.
The massive amount of rainfall in the region through the incredibly long era goes around beneath more than 20 multiple volcanos, and thereafter spurts out through these volcanic rocks. This natural spring water is called "Kirishima Rekkasui" which has become the first approved potable mineral water without any sterilization in Japan.
Even though the quality of the spring water was excellent enough, we were still looking for better quality water than Kirishima rekkasui, and finally found after several times of boring untill 200 meters beneath the ground.
The water which does not usually come out of the ground is ancient pure water called "fossilized water" and contains rich in Silica (SiO2) and well balanced minerals.
Nutrition Facts(Per 100ml)

| | | | | | | | |
| --- | --- | --- | --- | --- | --- | --- | --- |
| Sodium | 0.70mg | Magnesium | 0.53mg | Silica | 6.20mg | Sulfate | 7.8mg/L |
| Calcium | 1.30mg | Potassium | 0.30mg | Vanadium | 18μg/L | | |
Monde Selection
Monde Selection is an authoritative non-competitive award open to food and drinks created by European Community and Ministry of Economy of Belgium. It has the history of 57 years and said as "Nobel Prize in food product industry."
Entries are limited to consumer products put on the market, and entered from all over the world.
Products are awarded Bronze, Silver, Gold or Grand Gold by grades of the taste, sanitation, ingredients, raw material and provision of information to consumers under strict examination.
Gingasui was awarded Grand Gold Medal in 5 consecutive years from 2005 to 2009 and is highly evaluated by food analysts.