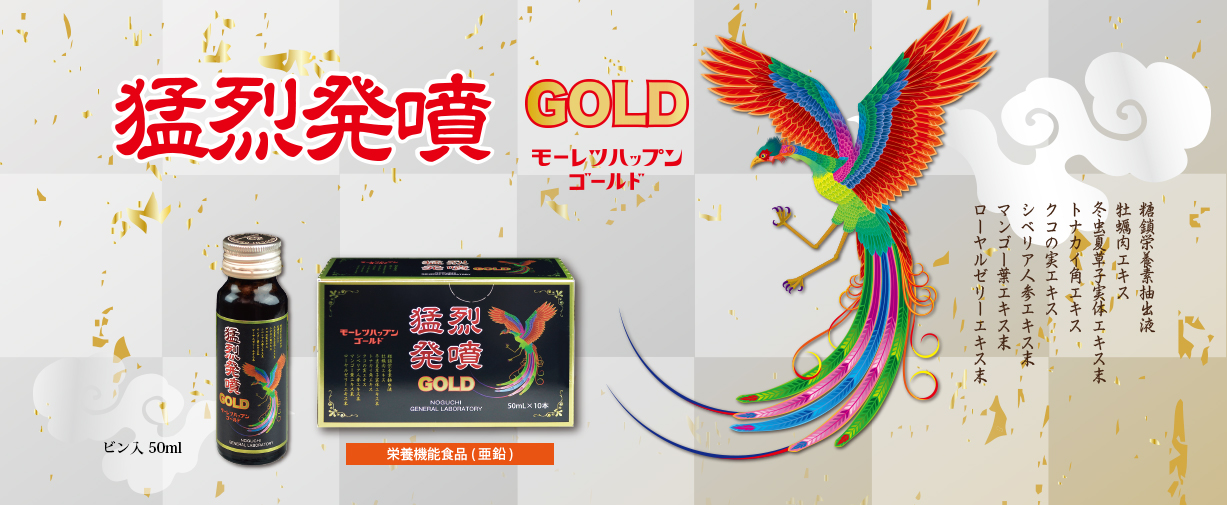 Features of Moretsu Happun Gold
Power, beauty and energy
Based on "Glycan nutrient extract solution", formulated with extract of oyster meat, cordyceps sinensis, rangifer tarandus, wolfberry fruits, Siberia ginseng, mango leaves, and royal jelly, etc. Since it is formulated with oyster meat extract and zinc gluconate, it is shown as nutritional functional food (zinc) on the label.
Although the existing "Moretsu Happun" is formulated with caffeine, this product uses mango leaves extract, which has the same effect as caffeine. It is pepper flavor that makes your throat feel stimulated when you drink it.
The phoenix, which is shown on the label, is a symbol of elegance, strength, improvement, and love. It also represents power, beauty and energy up.
Main ingredients (Amount per serving)

| | | | |
| --- | --- | --- | --- |
| Glycan nutrient extract solution | 3,000mg | L-citrulline | 800mg |
| Cordyceps sinensis extract powder | 300mg | Oyster meat extract | 300mg |
| Rangifer tarandus extract | 300mg | Wolfberry fruits extract | 300mg |
Nutrition Facts (Serving Size)

| | | | |
| --- | --- | --- | --- |
| Calories | 43Kcal | Protein | 1.75g |
| Fat | 0g | Carbohydrate | 8.85g |
| Salt equivalent | 0.097g | Vitamin C | 200mg |
| Nicotinamide | 30mg | Vitamin B2 | 10mg |
| Vitamin B1 | 5mg | Vitamin B6 | 5mg |
| Zinc | 10mg | | |