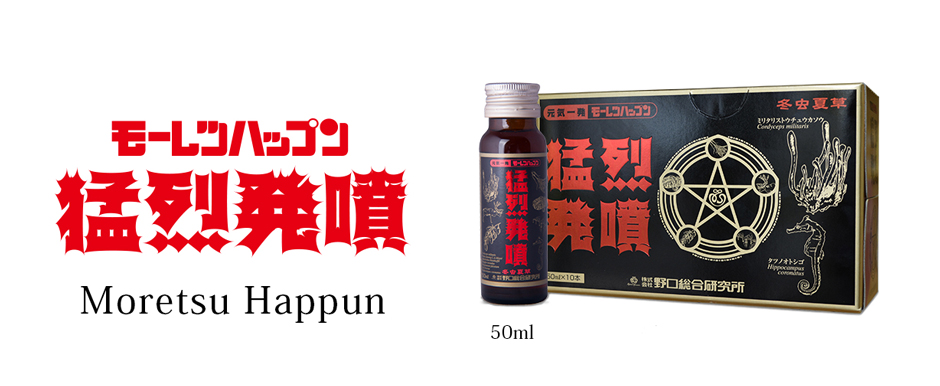 The features of Moretsu Happun
Moretsu Happun contains 2,500mg (per bottle) of cordyceps sinensis extract.Cordyceps sinensis is neither an insect nor plants. It is a species of parasitic fungus and has been taken as a medicine in Japan since long ago.
Horns of reindeers have been utilized as nutritious food in Northern Europe since long ago. They are shed and regrown every year and contain arginine.
Hippocampus (sea horse) is saltwater fish belonging to the family Syngnathidae and inhabits to the south of Hokkaido in Japan. It contains protein as the main composition and various amino acids. It has been utilized for traditional Chinese medicines and medical dishes in China.
Chinese wolfberry fruits contain various nutrients such as vitamin A, B1, B2, C, calcium, phosphorus and iron. They also contain betaine and zeaxanthin, which are utilized for fruit wine, dried fruits and to eat fresh.
Agkistrodon halys extract is well known for traditional Chinese medicines or viper wine. It contains rich in amino acids, especially the essential ones which cannot be generated or composed in the body.
Panax ginseng has been utilized for traditional Chinese medicine since long ago.
Polygonatum falcatum is a perennial plant belonging to the lily family. It is dried and utilized for traditional Chinese medicines.
Ingredients (Amount per serving)

| | | | |
| --- | --- | --- | --- |
| Cordyceps sinensis extract | 2,500mg | Extract of horns of reindeers | 100mg |
| Polygonatum falcatum extract | 300mg | Panax ginseng extract | 100mg |
| Extract of sea horses | 250mg | Vitamin B1 | 10mg |
| Chinese wolfberry fruit extract | 200mg | Vitamin B2 | 5mg |
| Agkistrodon halys extract | 160mg | Vitamin B6 | 5mg |
Nutrition Facts (Amount per serving)

| | | | |
| --- | --- | --- | --- |
| Calories | 31.5Kcal | Protein | 0.05g |
| Fat | 0g | Carbohydrate | 7.35g |
| Sodium | 7.45mg | | |