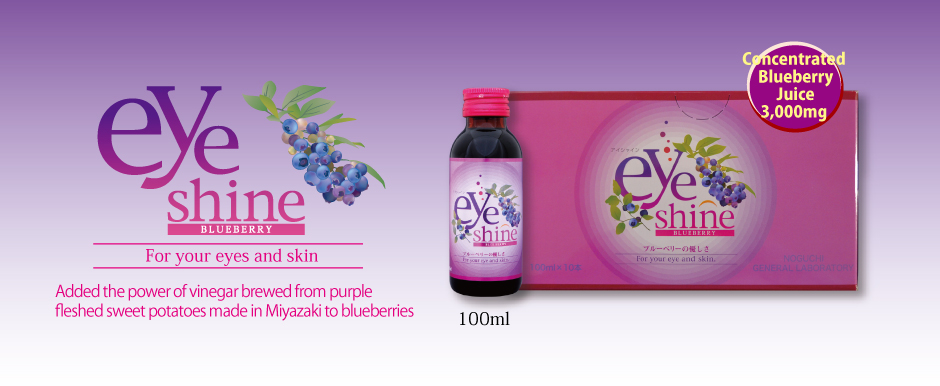 The features of eyeshine
Added the power of vinegar brewed from purple fleshed sweet potatoes made in Miyazaki to blueberries
Blueberries which are blue-violet colored fruit contain the anti-oxidational substance of polyphenol, anthocyanins. The vinegar brewed from purple fleshed sweet potatoes made in Miyazaki contains plenty of polyphenol, such as anthocyanins and chlorogenic acid.
Eye Shine is the wine red colored healthy drink of the purple fleshed sweet potato vinegar compounded with blueberries, cassis extract, and honey.
It is low in calories and good-taste healthy drink which contains plenty of polyphenol and has only 36kcal.
Ingredients (Amount per serving)
Concentrated blueberry juice
3,000mg
Vinegar brewed from
purple fleshed sweet potatoes
2,000mg
Grape seed extract
(Grape seed extract, Dextrin)
100mg
Cassis extract powder
40mg
Honey
4,000mg
Polyphenol
100mg
Nutrition Facts (Amount per serving)

| | | | |
| --- | --- | --- | --- |
| Calories | 36Kcal | Protein | 0g |
| Fat | 0g | Carbohydrate | 11.1g |
| Sodium | 4.5mg | | |